Morocco at Christmas and New year
Have you thought about traveling to Morocco at Christmas and in New year?
This could be your next Christmas trip. We know there are still full of uncertainties this year, but why not consider to be in Morocco during Christmas or spend new's year eve in Morocco ?
Why to travel to Morocco on Christmas
-> Travel to Morocco with FRIENDS:
If you are a group of friends, this getaway to Morocco at Christmas or New year will let you experience the adventure of a desert trip.
You will have fun driving a quad or a buggy in the dunes, doing sand boarding, enjoying moroccan nights in the trendy restaurants of Marrakech and their cozy riads, and more. Or perhaps you want to join a christmas yoga retreat in Morocco, for instance. All done at an affordable price. 
Discovering a different culture for those who have still not travelled outside Europe  (or his own country) is such a rewarding milestone in life, that you will never forget. In other words, you would like to repeat it in the future, because, surely, we will meet again in Morocco.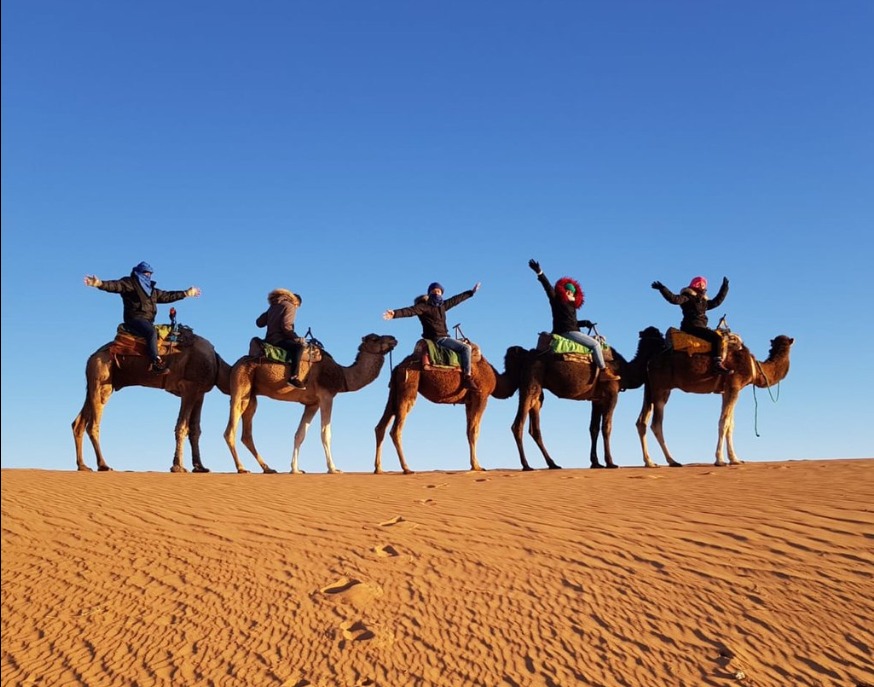 -> FAMILY Christmas holidays in Morocco / Travel with KIDS:
Whether some people want to spend their Christmas holidays at home, there is another way to spend these holy days with the family. Traveling with your children to discover a land where everything is different for them, is a wonderful experience that will sure reinforce your family bounds. The best gift they may receive.
Of course, their best experience will be to ride the camels… But they might have the opportunity of playing with children from a very different origin, which is always an enrichment for your kids.
The whole environment will be magic, those different cities and landscapes, the people, the desert. Above all, your kids will have fun discovering all of it with you. They can live a strong and happy learning that everyone in the family will ever remember.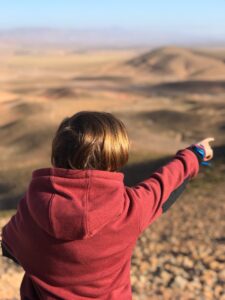 We adapt the trips to the whole family.
-> COUPLE trip to Morocco :
Marrakech, Tangier but all Morocco offers romantic getaways to enjoy your time together.
Combine your discovering trip with the stay on the most cozy riads and their neverending breakfasts in the sun of the terrace. Take dinner with candles in the top roofs of Marrakech or the best restaurants and riads in Morocco. Try a hammam, the spa, a henna tattoo, a balloon ride in Marrakech, or a night in a luxury tent in the Sahara desert. Enjoy each moment together in a private trip and build memories as a couple for the future.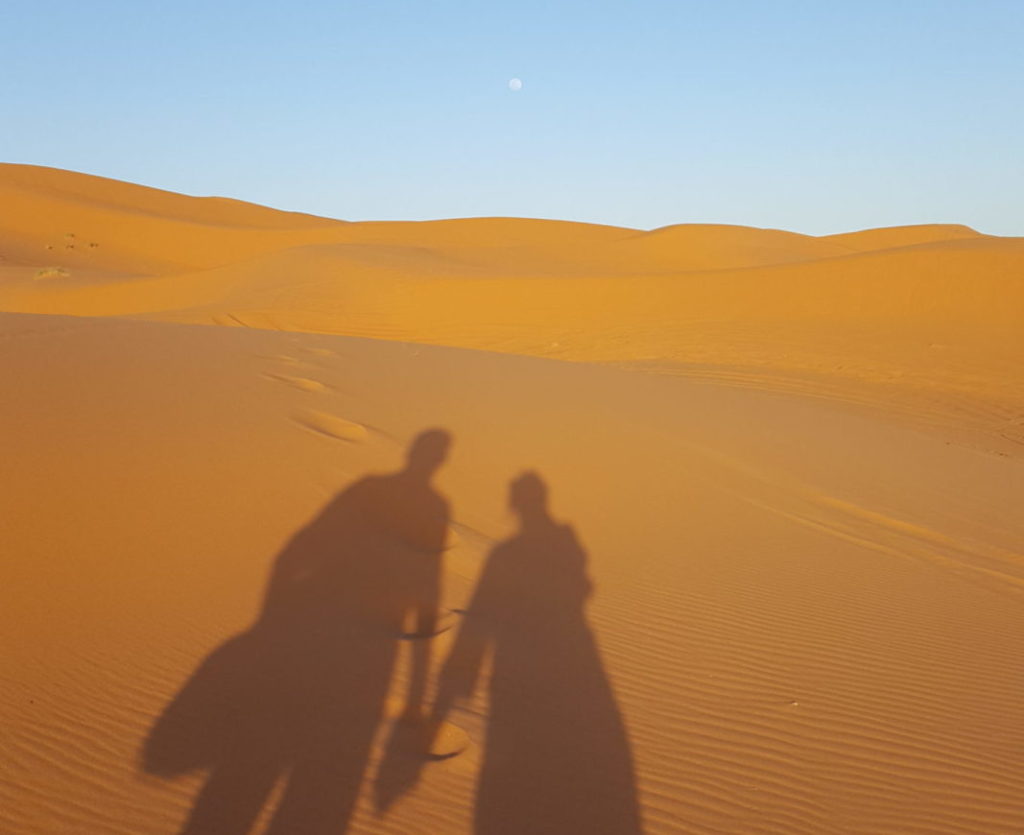 -> SENIOR in Morocco:
When the pandemy shall permit it, the experience to travel to the pleasures that offers a country as Morocco is the most well deserved. Culture, delightful gastronomy, all comforts of high standards of accommodation and slow tourism. Wellness in the multiple ways that you can experience in Marrakech, Merzouga, Tangier or any other place in the country.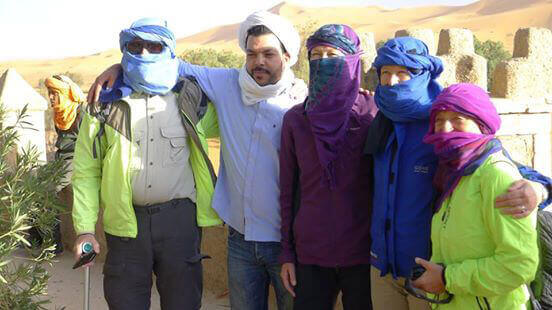 When is the best time to travel to Morocco at Christmas or at New Year?
Both will be great, and even before at the begining of december or after them, first weeks of january. In fact, Morocco has multiple options to spend these days and when: The luxury and trendy Marrakech to enjoy Christmas in a charming riad, or a New Year's Eve party in the latest fashion restaurant in the red city. Our best choice: New Year under the stars of the desert.
Morocco At Christmas Or Before
Some of you travel even the first half of December or just the week before Christmas Eve. So that you can be at home by then. Others just travel during the week around it, so they gain red days to have a longer holiday at the end of the year.
Morocco At New Year
Another option is to travel the days around New years eve (see also our post in spanish), so you can enjoy the fullest version of this feast in the desert. Glamour is also around the simple choice of walk in the Djemaa el Fna square to welcome the new year in Marrakech.
Traveling just after Christmas
January after all celebrations is also an unbeatable way to start the year. Traveling to a new country such as Morocco, plenty of things to discover, will result in the most rewarding experience to begin the next 12 months. It's also the best way to rethink your life for the next year, as the trip provides you a change perspective and learnings. You just have to be embedded in the berber way of living.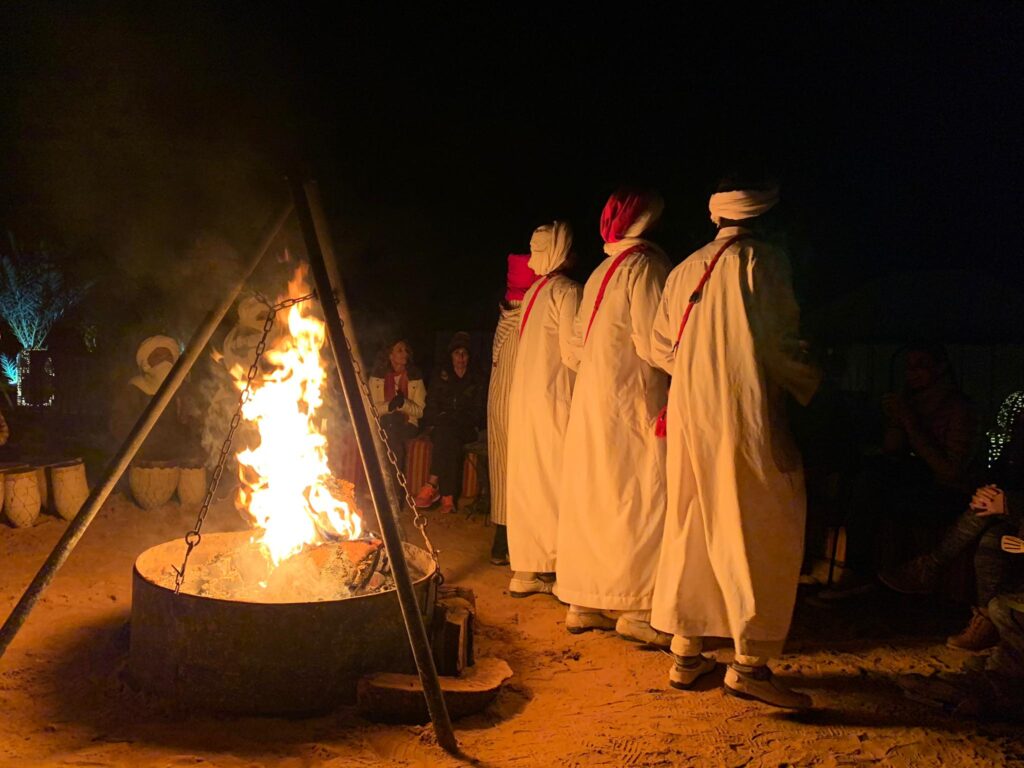 Finally, here you have the 3 BEST MOROCCO CHRISTMAS TOURS:
Remember we can start our tour from any airport or place you arrive: Marrakech, Casablanca, Tangier can be your choices depending on the number of days you have.
1. Tour from Marrakech to Merzouga desert
The most famous tour in Morocco to enjoy a week of culture, nature and adventure and live the route of the caravans. Our south-Morocco trip will take you from Marrakech to Merzouga desert, in a route full of palms, oasis, kasbahs and emotions: 
This trip can be done even in 3 days, but we recommend at least 4, specially during winter when days are short. The best duration is 7 days.
2. Tour from Marrakech to Fes, through the Sahara desert
The most successful Morocco Christmas tour is from Marrakech to Fes, through the desert. Culture in the city and adventure to make a great time, visiting the 2 iconic imperial cities, Marrakech and Fes, and the Sahara dunes of Merzouga:
No worries if you arrive from Casablanca, we can add the visit of Hassan II Mosque and sleep in the economic capital of Morocco, or transfer you to Marrakech in a 3 hours traject. And of course to add a return.

Moreover, the program can always be adapted depending on your likes, needs and days.
3. Tour from Tangier to Merzouga desert
You can travel from north to south Morocco also. As a result, this trip gives you a gradation from most european cities to pure berber desert experience. From Tangier to the desert through the Ziz valley, or even start from Fez and come back :
Is Christmas a good time to visit Morocco?
It always has been one of the best occasions to visit and celebrate Christmas and or New year's Eve in Morocco. In other words, it's a great time to travel to Morocco during Christmas.
But, we know it is not easy to decide to travel since the changes we are  facing in 2020. Hopefully things will go better and everybody will be confident again. In Morocco, we are working to make you feel safe. So that you can only think of enjoying your vacation.
Any inquiries about the updated situation feel free to contact us or you will find more information in our recent posts. Also you can have a look to this link of TUI.
And If you want to visit ALL MOROCCO AT CHRISTMAS IN A TOUR,
this is for you:
The most complete trip through Morocco in 12 days from the hand of local experts. Direct departure from Casablanca.
You will live a unforgettable experience in Morocco while visiting its imperial cities, the magical Sahara desert, the Atlas Mountains and its infinite Atlantic beaches.