The picture below is from our first flight to the exotic north-coast city of Morocco where we are based. As if we were tourists when starting a tour in Morocco from Tangier, we were excited to arrive. Do you remember those butterflies in the stomach? We were looking and shooting through the window to start recognizing the field of our new adventure... I think this wonderful sensation accompanies every person that travels around the world when he arrives to his destination.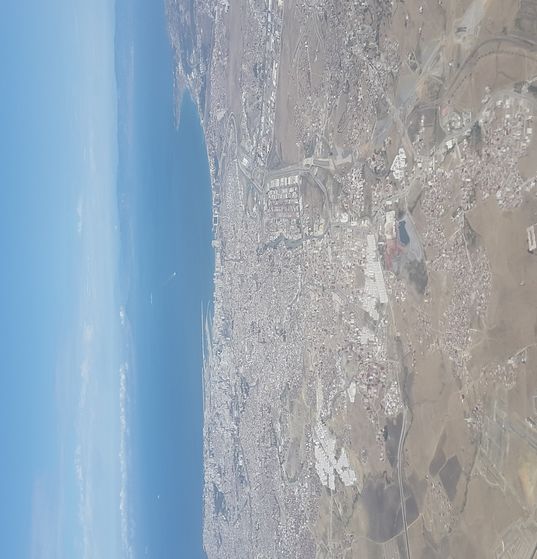 It was a kind of come-back home, but from the north side. I had been so many times in the past with travelers, so I'll realise those big changes the city is experiencing to become a new attractive entrance door to Morocco.
The first time you had seen Tangier, it has been from the other side of the strait of Gibraltar. There and many years ago, on the hills of Tarifa, you were seeing her white skyline, which would become our future home. At that moment, you only felt the strong call from the Africa continent that all travelers know when already they had lived in such a sunlighting land. But, who could imagine then such a different life in the future?... and yet what is lefet to live!
Because Unik Maroc Tours was born here after this trip to offer you:
If you are looking for a tour of Morocco from Tangier, we can help you. We are in the city and we made it our main base.
Tangier has grown exponentially in the last 15 years, covering its thirteen mountains in white (perhaps they are still more today). The city has prepared a lot, increasingly improving its infrastructures and embellishing itself to welcome tourists, and become the tourism epicenter of northern Morocco.
It is a destination that is being promoted, due to its proximity to Europe and its connection through the Strait of Gibraltar. Before the pandemic, and it will be the same afterwards, flights from multiple destinations and the frequency of cruise ships and ferries have been strengthened and increased. But it is not only emerging as a powerful source of entry for travelers, but also as a destination in itself. And, whether you arrive by ferry or plane, it is worth spending at least one day on it.
Its aura of mistery and mixture of cultures make it an ideal starting point for your trip. From its European appearance in some areas and its Mediterranean landscape, it gradually starts you getting to know Morocco. You can stay in the north if you have a few days, or go further and discover the rest of Morocco from Tangier.
Here you have all the tours that we have prepared for you, and we can tailor the trip from Tangier that you want.
Contact us for details and book a Morocco tour from Tangier.
Welcome to Tangier.