Inspiring quotes which describe somehow Morocco
The following are inspiring quotes that match somehow with a piece of Morocco and delight us. We had find them in our trips or during our work with instagram and facebook profiles, and we wanted to recap in diferent posts in our blog as a reading trip. Enjoy.
Sahara desert
«What makes the desert beautiful is that somewhere it hides a well» (Antoine Saint Exupéry )
Everybody knows the writer was very attached to the desert, so his inspiring quotes. When we read this sentence in such an inspiring book, we remember authomatically on those water wells you find in southern Morocco. Some are already prepared for animals drinking trough. Often we stop there in the hot season to refresh us a few. Only a few, as after some seconds water evaporates from our faces or hair. Discovering those inside the oasis are like a magical eden encounter, that is we find so lovely the quote of Saint Exupery.
«What is that object?» «That is not an object. It flies. It is an airplane. It is my airplane.» And I was proud to have him learn that I could fly. He cried out, then: «What! You dropped down from the sky?» (The little Prince, Saint-Exupéry)
Outside of a desert riad of Merzouga and Hassi labied lies the skeleton of the desert plane that was used for the movie The Little Prince, as some of the scenes from which they were shot in this desert.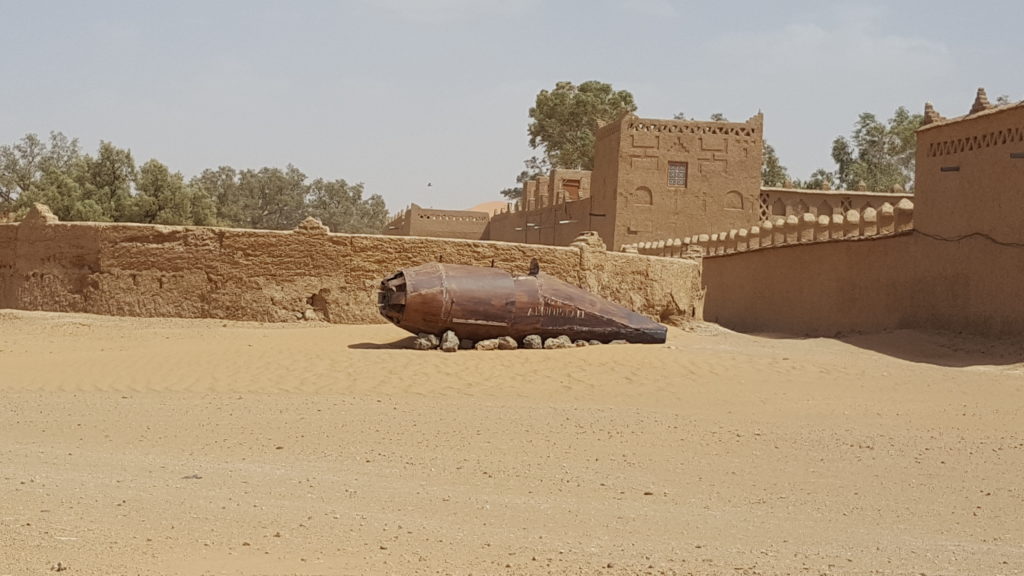 "It's strange how deserts turn us into believers. I believe in walking in a landscape of mirages, because you learn humility. I believe in living in a land of little water because life is drawn together. And I believe in the gathering of bones as a testament to spirits that have moved on. If the desert is holy, it is because it is a forgotten place that allows us to remember the sacred. Perhaps that is why every pilgrimage to the desert is a pilgrimage to the self. There is no place to hide and so we are found." (Terry Tempest Williams)
We have been always fascinated about this sensation of plenitude in the land where's nothing but you. Desert offers you the possibility to look in your innerself and feel. Being concious. A pilgrimage from where to do the reset to continue. Come with us in a desert tour and you will discover it.
Green fields around Atlas Mountains
"If the sight of the blue skies fills you with joy, if a blade of grass springing up in the fields has power to move you, if the simple things of nature have a message that you understand, rejoice, for your soul is alive…" (Eleanora Duse)
Famous italian theather actress end of XIX century (thank you kristinerykkelid for sharing this words in your post), when we read this inspiring quote we instantly felt the sensation of some days before when travelling from Fez to Erfoud. We cross Atlas in that journey, and there were some green plains around the road, plenty of horses riding free. The sky was that day of an intense blue, so the beauty made us smile while driving. It was the joy of life for sure.

Larache delta
«It is said that before entering the sea
a river trembles with fear.
She looks back at the path she has traveled,
from the peaks of the mountains,
the long winding road crossing forests and villages.
And in front of her,
she sees an ocean so vast,
that to enter
there seems nothing more than to disappear forever.
But there is no other way.
The river can not go back.
Nobody can go back.
To go back is impossible in existence.
The river needs to take the risk
of entering the ocean
because only then will fear disappear,
because that's where the river will know
it's not about disappearing into the ocean,
but of becoming the ocean.»
(Fear, poem of Khalil Gibran)
Lebanese poet, painter, novelist and essayist. He is known as the poet of exile. When we read this phrase we immediately thought of Loukkos, the river that flows into Larache in Morocco.
The day we went to visit it, we contemplated its meanders from the top of the ruins of Lixus, the Roman site that is so worth visiting. After we went to the port and there, we spent some time watching the boats fight at the time of going out to the open sea. It took a while to overcome that tremor of water. It may seem like this rebellion that Gibran talks about, that trembling at the crucial moment. Later, the boats rocked calmly in the open sea, in search of the catch of the day.
In life, as in the sea and the end of the river, hold the helm and move on, you will be an ocean at the end. You already are. Immense.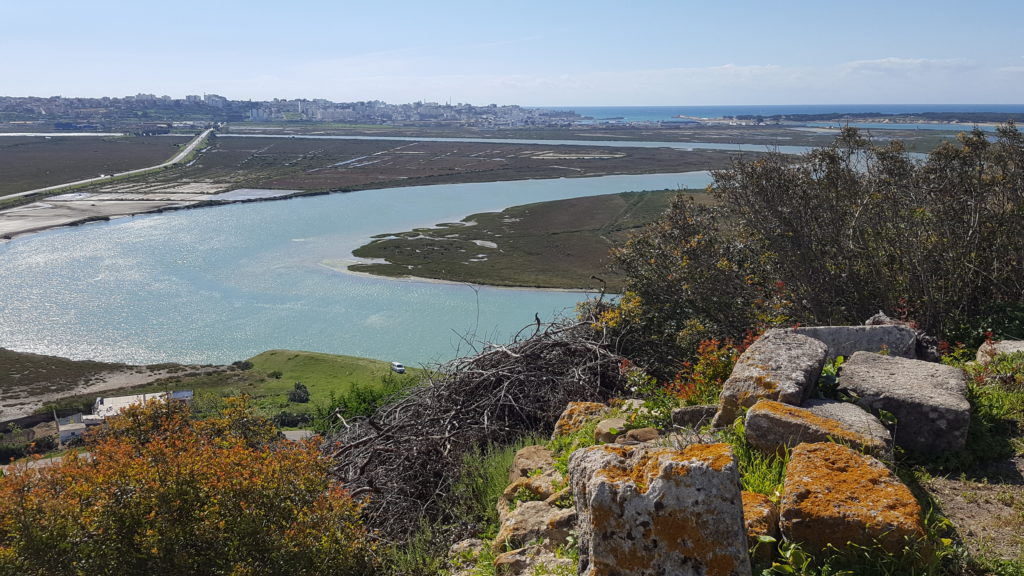 Tangier
«From the first day and during all the years I spent in Tangier, I liked this white city that lies straddling over its hills, looking through the strait of Gibraltar onto the mountains of Andalusia.» Paul Bowles ( american writer 1910-1999)
We have a lot of inspiring quotes related to Tangier, in part thanks to a recap we read from Renault factory settled there, which made a temporary tribute exhibition in La Corniche at some point of 2016 or 2017. After this, our walkings by this city have been enriched with its vision.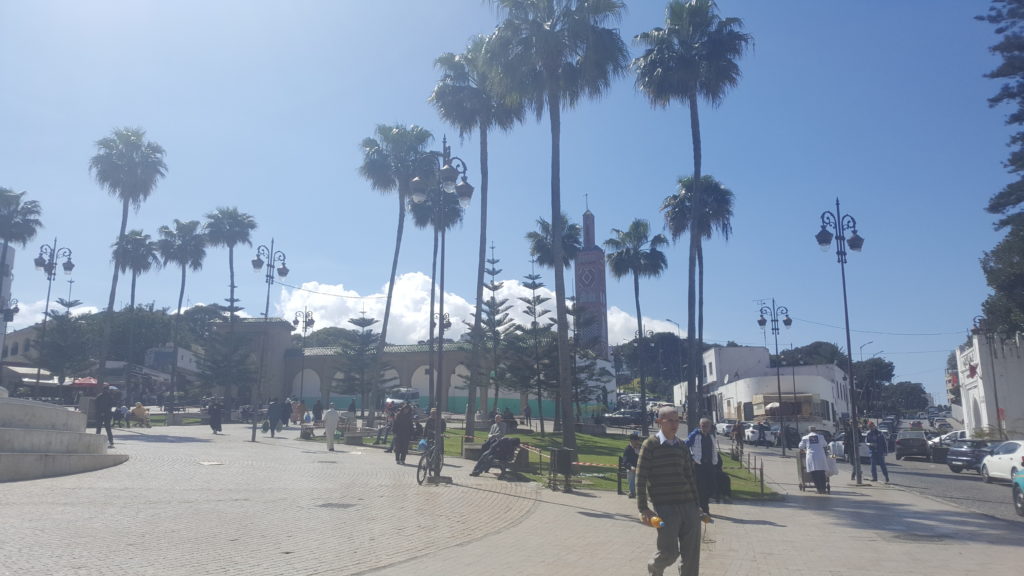 «I have traveled a lot, but my footsteps were in need for a place to linger on for writing, I have no dreamed of a place better than the Grand Socco, where I could leave a part of myself.»(Joseph Kessel was a french adventurer and writer. 1898-1979)

The Grand Socco is now Place 9 d avril in Tangier, north Morocco. It will never will be the same when you realise which was the past of the most important square in front of the medina. In the past a crowded market. Now it's crowded by cars in an impossible roundabout where parking places and some terrasses plus walking tourists are competing for the narrow space. It seems her destiny to be overcrowded and full of live always.

Amazigh Culture
"Amazigh read with ears, and write with lips…" ( Mohamed El Moustaoui, moroccan writer and amazigh intelectual)
You know someone like this. The occidental perspective mesmerized.
More inspiring quotes
If you want to read more inspiring quotes, we are preparing a new one with another recap. Meanwhile you can follow your reading about us, in the Unik Maroc Tours home. And, of course, if you have any quote related to Morocco write it down to share, we would like to know it!

---